Fuel Transfer During a Natural Disaster: Are you Prepared?
In 2021, there have been eighteen weather and climate disasters alone. Losses from these disasters have exceeded $1 billion each in the United States. According to the National Centers for Environmental Information, as of October 2021, these events have included nine severe storms, four tropical storms (including hurricanes), two major flooding events, one wildfire event, and one drought (NOAA National Centers for Environmental Information (NCEI) U.S. Billion-Dollar Weather and Climate Disasters (2021), DOI: 10.25921/stkw-7w73). What's worse, farmers are usually in the middle of these crises and experience significant financial loss, including losing their livestock and crops. As one of Great Plains Industries' biggest customers, farmers are always in our thoughts, and using our products in natural disasters can significantly benefit them. Additionally, other industries, including: construction, marine, aviation, and recreational vehicles, can use our fuel transfer pumps in times of need.
Hurricane season spans from June to November. When a storm hitting a shoreline is imminent, relief agencies and municipalities will begin to stock up on fuel in preparation for the pending disaster. The equipment that will need to be fueled includes full-sized vehicles, boats, helicopters, chainsaws, and generators.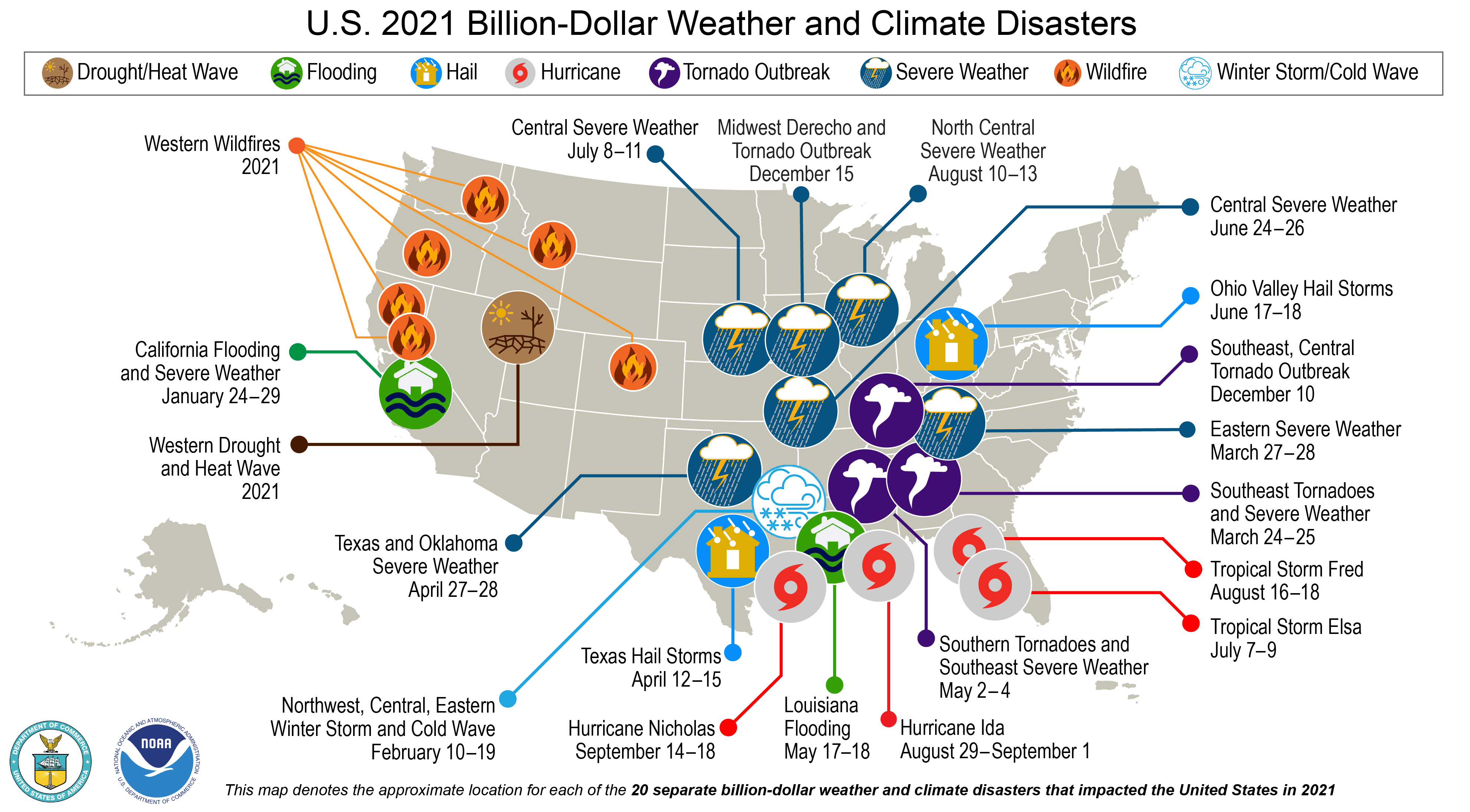 Image: NOAA National Centers for Environmental Information (NCEI), all rights reserved.
When a hurricane makes landfall, GPI has seen increased demand for fuel products in the surrounding areas. At our Wichita warehouse, we have emptied our warehouse twice- during Hurricane Katrina in 2005 and Hurricane Harvey in 2017. GPI gets a few emergency orders to ship out pallets of our 12-volt fuel pumps every year. What makes our 12-volt DC pumps unique is that they can run off the power from a truck battery. Fuel stations in an affected area may be inoperable due to loss of power or storm damage. If the service stations are operable, the roads may make it challenging to get tanker trucks to resupply due to flooding. In addition, fuel inventory is often rapidly consumed by rescue efforts and evacuating the public. If the power grid is damaged, the loss of power could leave fuel storage inaccessible due to the inability to pump it out of the underground storage tanks. A DC-powered pump, powered by a vehicle charging system, can allow service station owners and emergency personnel access to fuel when the power grid is down. A way to transport and dispense fuel during a natural disaster provides the owner with options during recovery or escape.
As terrible as natural disasters are, GPI is always on the frontlines, ready to help our customers with our products. We believe our products increase rescue time and decrease barriers in rescue missions. In times of disaster, you can count on our fuel pumps to help you fuel forward.